Adding a Mack Super-Liner to a livestock haulage fleet isn't an unusual occurrence these days. However, if that fleet happens to be the first family-owned Australian business to own over 300 Kenworths, you do sit up and take notice!
With depots in Oakey in Queensland, and Scone and Dubbo in New South Wales, Martins Stock Haulage is one of Australia's most wide-ranging and successful family- owned livestock haulers.
Continuously in business since Gordon Martin started the company in 1958, Martins run a fleet of around 90 prime movers in every configuration up to triple road trains. Their livestock operations cover all of eastern Australia, from western Queensland to South Australia, while they also have tankers carrying dangerous goods for the mines in Western Australia.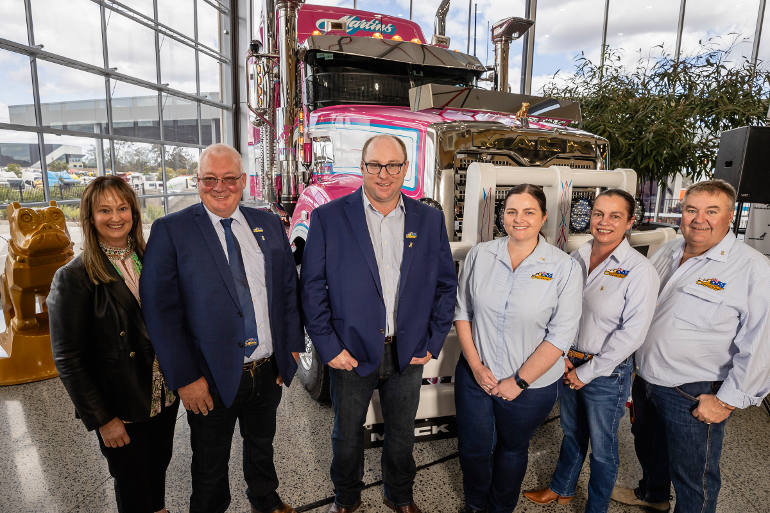 General Manager Adam Ross was driving home in a new truck when we spoke to him about Martins' recent acquisition.
"We specialise in the really remote stuff," said Adam, "we go everywhere from remote farms to the cities and there's no job we won't tackle. Some days our drivers will go all day without leaving the station where they picked up the cattle."
Martins found themselves in a bit of a bind during the Covid-19 pandemic, when getting hold of internationally supplied equipment was almost impossible.
"We had a bit of a relationship with one the blokes at Western Truck Group in Toowoomba through a horse sale we sponsor, so we started the conversation."
As a result, Martins placed an order for four Super-Liners, with another four Titans due to come off the line later this year.
"We've had over a hundred Macks in the past," says Adam, "so this is nothing new, but when they sent us a Titan to trial, we were very impressed with it. We were a bit concerned about driver acceptability, but we needn't have worried – we put one of our most senior drivers in the Titan and he loved it."
The Macks are fitted with sleeper cabs, and all feature the renowned Mack powertrain of the 685hp MP10 engine, coupled with the mDRIVE automated manual transmission.
"We're setting the servicing up on Mack Service Agreements, which will take the work out of our sheds," said Adam, "that was another aspect we liked."
Buying a new truck gave Jason Martin, Adam and their team an opportunity to pursue something they'd been talking about for a long time: acknowledging the contribution of the women in the business.
"We've got women in roles throughout the company, from drivers to senior executives," said Adam, and they're some of the hardest-working and most capable people we've got. They're a huge part of the business and we wanted to do something significant to recognise them publicly."
The result is a 685hp Mack Super-Liner decked out in a spectacular pink finish that's going to draw a lot of attention in its travels around Australia.
"We didn't really know how this would work," said Adam, "the idea started from a discussion with the Mack guys, but then everyone involved just jumped on board and the level of enthusiasm was incredible."
Each supplier involved in the project added their own unique touch: the painting and the mural supplied by Bel Air Truck Spray Painting, the chrome and lights from Bling HQ, finishing scrollwork from Signs 'N' Lines, while Ultimate Shine Metal polishing put the final finish on it.
"When we started telling people what we were doing we got a few raised eyebrows, said Adam, "it was like 'You're doing what?', but everyone loves the result. This is an opportunity to inspire our employees. The women we employ are there on their own merits – the best and brightest for the job – and we want to encourage them and others to get out there and have a crack."
Vice President of Mack Trucks Australia, Tom Chapman said it was an honour to partner with Martins to build a truck with a higher purpose.
"It's by no accident that Martins Stock Haulage is one of the largest livestock carriers in the country. The way in which they embrace new technology and continuously strive to improve their systems and processes is world class," he said.
"The transport industry is constantly evolving and full of opportunity. Innovation is very much the key to success and diversity and inclusion is a huge driver of this," he continued.
"This pink truck is a symbol of two transport icons dedicated to embracing change, promoting diversity and setting new industry standards to shape the future."
One of Martins' most senior drivers will soon be taking it out to western Queensland as a triple road train.
"He's tickled pink about it, no pun intended," said Adam, "and he's a role model for the company. We're expecting to get a lot of people approaching him with questions and asking to have photos taken with the truck.
"This pink Mack is a statement of our belief in and support for the women in our company and in the transport industry as a whole, and it will be taking that message everywhere we operate."