SEA Electric is improving the safety of its Australian-produced range of light and medium-duty trucks with an expanded SEA-DAS (SEA Driver Assistance System) as standard.

The all-encompassing array of features includes active systems and passive design features, such as Vehicle Stability Control, Automatic Emergency Braking, Pedestrian Detection, Lane Departure Warning, Traction Control, an Anti-lock Braking System (ABS), dual SRS airbags and dual SRS seatbelt pre-tensioners.
Tested to ADR standards, the SEA Electric compliance plated trucks have received an ECE-R29 cab strength certification, a shock-absorbing and collapsible steering column, anti-side intrusion door beams, reversing camera with buzzer, and daytime running lamps.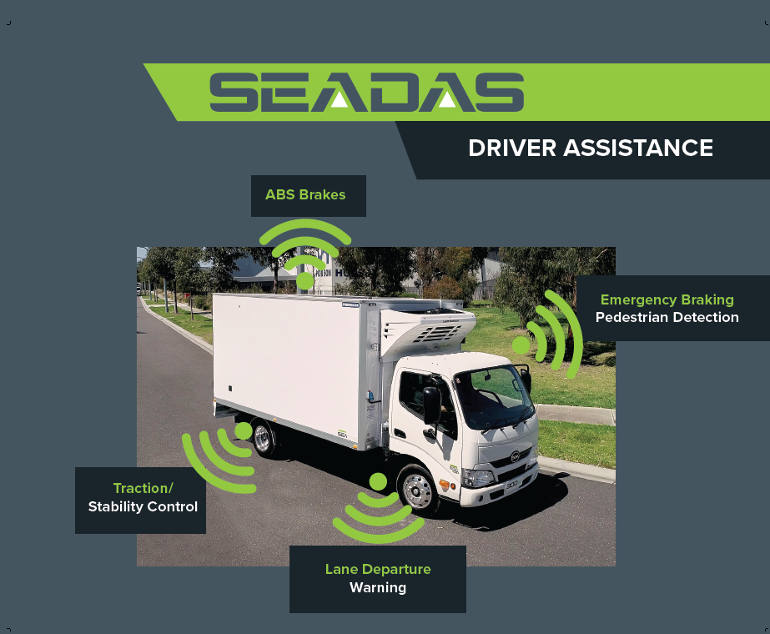 Available from a nationwide dealership network, the SEA 45e, SEA 85e, and SEA 225e cater for 4.5t car licence models through to 22.5t three-axle rigid configurations and a wide array of final applications, with the trucks engineered and assembled in Melbourne.
The SEA-Drive® power-system architecture features innovative in-chassis mounted batteries, which improve battery protection and driving dynamics by centralising weight while maintaining front-to-rear weight distribution for optimal braking performance.
"With the addition of several key elements under the SEA-DAS umbrella, the ultimate range of all-electric transport solutions just got even better," said Tony Fairweather, SEA Electric Founder and CEO.
"The active and passive systems of the model lineup make the SEA Electric range an even safer workplace and perfectly complement the many advantages of our all-electric platform.
"For instance, Vehicle Stability Control has been a significant safety measure in passenger vehicles, with its adaption for the transport industry a game-changer for professional fleets.
"We are proud of the innovations we bring to the marketplace with SEA-DAS, which will only enhance SEA Electric's standing in the industry."
One of the key features of the SEA-Drive® Power System is the use of regenerative braking, which not only tops up battery levels while the truck is in motion, but also saves wear on the service brakes, preserving them for any possible emergency situations.
The first stage of the active and passive braking system is engaged by turning the electric motor into a generator when coasting without any pedals depressed, slowing the truck and charging the battery, in essence, similar to a diesel engine's exhaust brake.

The second stage is engaged during the initial depression of the brake pedal, whereby additional negative torque is applied to the motor, with the traditional service brakes then only utilised when the brake pedal is fully depressed as the vehicle stops.
Another highlight of the trucks is the improved workplace health and safety conditions for operators, with the powertrain producing no noise or fumes while reducing vibrations, which combine to limit driver fatigue.
The lack of tailpipe emissions of harmful diesel particulates, carbon dioxide, nitrous oxide and methane is also welcomed by those living and working near busy freight routes.