The 2023 Brisbane Truck Show will be remembered as the breakthrough year for electric and zero emissions trucks in Australia. One of the first time exhibitors was Hyundai launching their light duty electric truck which had already clocked 5,000 kilometres of testing on Australian roads.
Sitting in the cabin of the electric truck at the show, I took the opportunity ask Shahab Anwar, Senior Commercial Manager, Commercial Vehicles, at Hyundai Australia about the sales plans and product lineup for a manufacturer better known for it's SUVs and performance models.
"I'm new in this company, just this my second month," explained Anwar. "So we selected a product which is a light duty and this is a 7.3 tonne GVM and the chassis is rated around 3.2, so you have a four tonne capacity. We did a trial and covered 5,000 kilometres on all the three type of roads like suburban, urban and a little bit of highway within New South Wales. To get an understanding, of the truck performance, the charging infrastructure, how it will work. The DC charging, AC charging; and what is the effect of different payloads and different roads."
"So once we come to this Brisbane Truck Show, we have that solid understanding of this truck and that is how we are confident to launch with the product. Already we have tested for more than 5,000 kilometres. Of course, in other countries this truck has covered many kilometres, but for Australia, and with the right hand drive, we have already covered this much kilometres."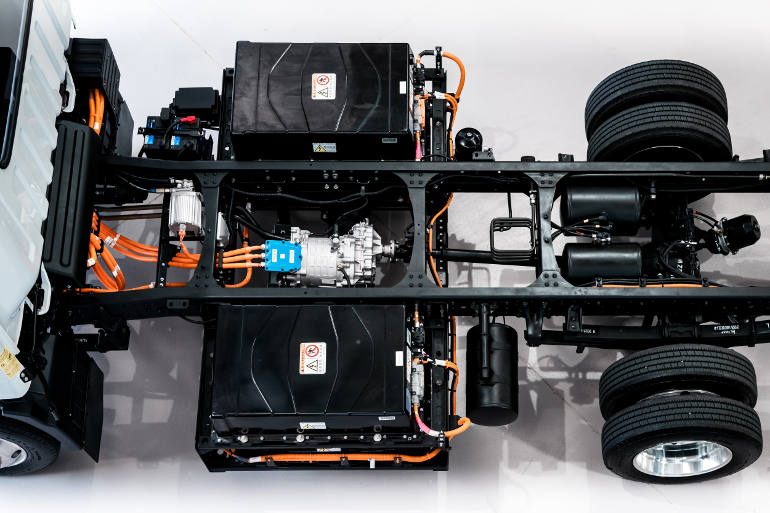 Anwar shared that enquiries have been strong since Hyundai announced that the electric truck would be on sale locally in 2023. He resisted the temptation to launch without local testing because he wanted to have confidence in the product first.
"So with that 5,000 kilometres of testing, it's gives us a lot of confidence now. Of course there was teething problems which we sorted out. So now we are ready technology wise, and the second phase is that we are now rolling out the dealer network."
"So from July, we should have 10 dealers nationwide. We have placed the orders for the trucks with the factory. And at this Brisbane truck show, already there are two or three customers that have shown interest and they want to trial them."
There are several electric commercial vehicles coming to market in 2023 with some brands achieving early success in the light duty truck market which is the largest segment of new truck sales in Australia.
Anwar has noted three types of customers that have made the initial enquiries and the demand is coming from their long term targets for zero emissions transport.
"There are three types of customers primarily interested. Number one are the fleet people, and then the councils, and those who want the sustainability credentials. Any fleet, or any freight company who want to have this green credentials, they are really keen, they're actually pushing us. At the moment because as we are doing the test and trial, so we just finish it up and then we come back to them. We will be very soon coming back to them with volumes."
At launch the Hyundai light duty electric truck will come with a 114kW/h battery and an estimated range of 200km which should cover most metro delivery applications. There are no plans to add more models over time though this truck appears to be in the light sweet spot for customers.
Anwar was unable to answer specific questions on sales volumes though he did seem confident large orders could be fulfilled quickly with good production capacity and batteries can be sourced within two months. (On our LinkedIn socials, Hyundai COO John Kett responded to a query on supply and said, " certainly no supply side limitation here.")
It was exciting to chat with Anwar because of his experience in other markets while working with Hino. His experience in Saudi Arabia has convinced him that electric transportation is a global trend with fleets operating in this oil rich nation looking to buy electric trucks.
"I worked in Saudi which is where all the fuel coming from. No one here in Australia can think they're going be talking EV; but in Saudi the people are talking about EV."
"So awareness is global. But of course, we have more infrastructure. And we are ahead of them but I think in the next five or 10 years, it will be a very big transformation."